The kitchen is the area in the house that usually involves spills and drips on the floor because of all the cooking activities, not to mention, the scratches and dents that come from dropping sharp utensils and moving heavy furniture and appliances. Keep in mind that not all the flooring materials are suitable for your kitchen. That's why it is essential to look at your kitchen flooring options so that you can better assess which one will match your needs, style, functionality, and budget. Doing this gives you less trouble with maintaining your kitchen floor and ensures that it can withstand possible damages in the long run.
Here is a list of kitchen flooring options you need to know about:
1. Vinyl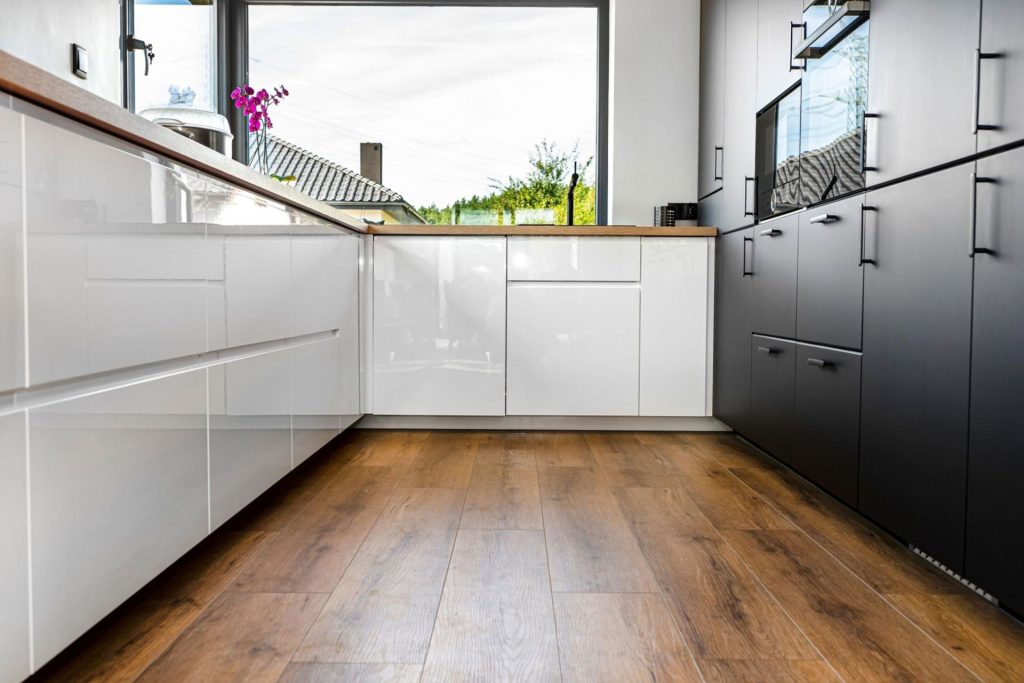 Vinyl flooring has been around for many decades and continues to increase in popularity today. It is widely used as a flooring material for kitchens and bathrooms because of its versatility, durability, and low-cost features. It is also known for being resistant to water, stains, and damages, which makes it a common flooring option by households with frequently used kitchens. Vinyl will be your best choice if you are looking for durability, no maintenance, waterproof flooring.
Pros
Highly-durable
Cost-effective
100% waterproof
Scratch-resistant flooring
Does not require maintenance
Has a large variety of selection
Cons
Added expense may be needed to level and replace your subfloor if your home has foundations and structures that are not perfectly leveled and straight. This applies to all types of flooring material but particularly for vinyl.
2. Hardwood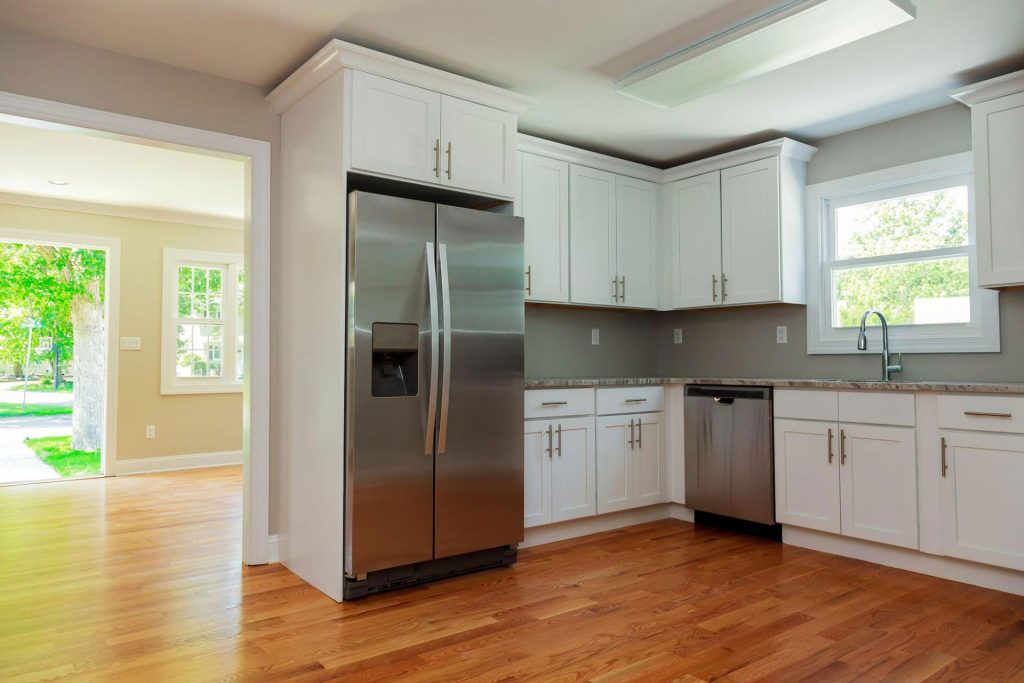 To enhance your home with natural material, hardwood flooring is the way to go. Each hardwood piece has its unique signature of grain and tone making it a very personalized choice. Different characteristics can be chosen depending on the wood species and the part of the tree it was cut from.
Pros
Amazingly beautiful
Organic material
Perfect for people who love something real and natural
Fits all types of homes, whether it is contemporary, modern, farmhouse, or historical
A wide variety of wood to choose from
Cons
Wood is a natural material therefore it is more exposed to damages from water leaks, deep scratches, or scuff marks over the years.
3. Ceramic or Porcelain Tile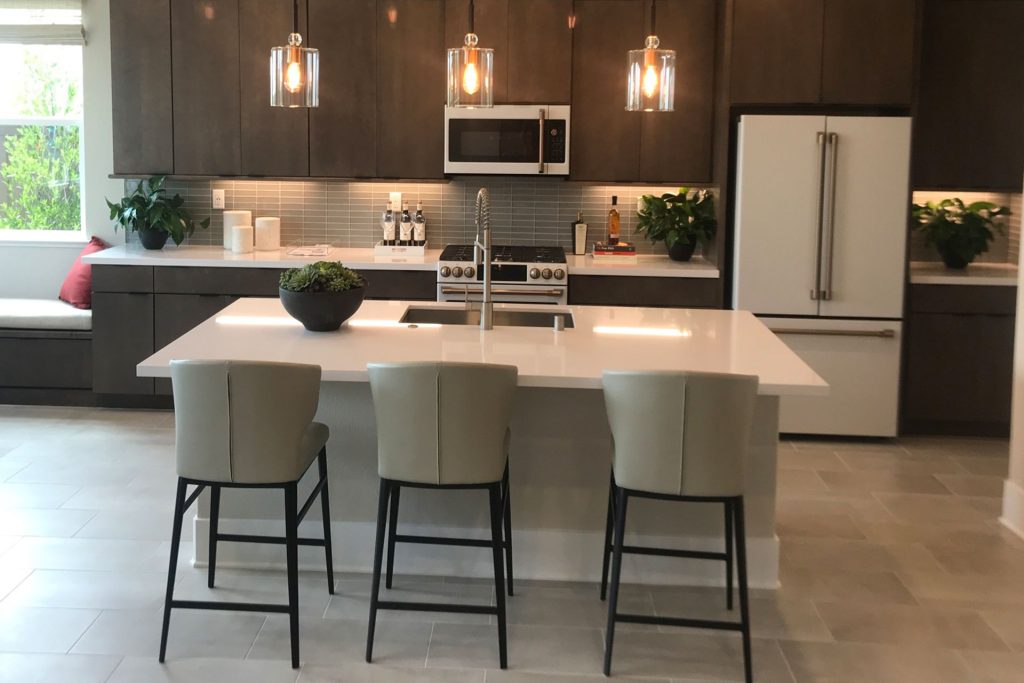 When it comes to kitchen flooring, tile is usually one of the first choices. It is a hard and durable flooring material that is resistant to water and stain. Tile is also easy to clean and comes in a variety of designs and patterns.
Pros
Highly durable
Solid material
Does not require maintenance
Cons
Cold on your feet during Winter
4. Natural Stone Tile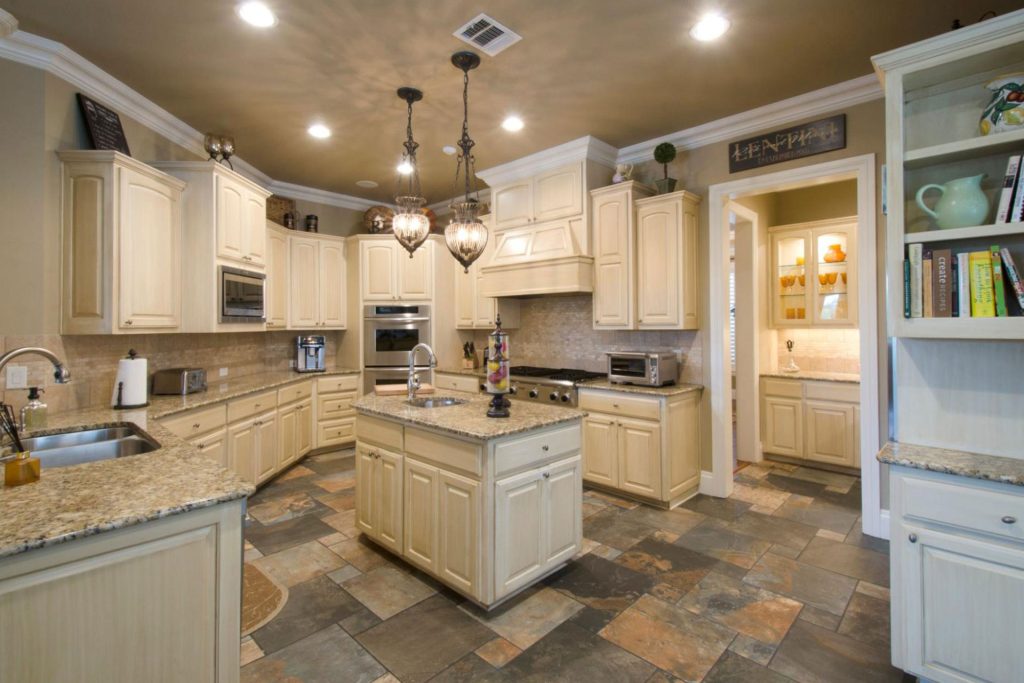 Natural stone tile is durable and long-lasting, making it ideal for kitchen floor applications. It is also a fine flooring option if you want to create a lush and distinct look for your kitchen. The hardness, durability, and scratch resistance will vary depending on the type of stone used. Granite, limestone, and marble are some of the most popular natural stones.
Pros
Natural material
Has appealing visuals
Perfect for people who are looking for something natural
Cons
Requires maintenance every few years
Absorbs liquid quickly which can lead to stains
Do you need professional help with the flooring installation of your kitchen or other areas of your house? Contact us today!